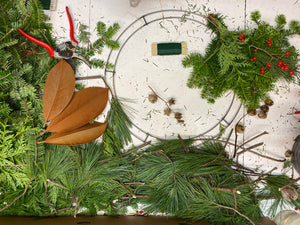 Workshops
---
All our workshops are nature-led experiences that encourage participants to connect with their creativity and embrace the seasons.
We also offer private workshops: One-on-ones for flower farmers/floral designers looking to enhance their skill as well as group workshops for corporate events, or family and friends.
For groups of six or more we offer fresh flower activities (centrepieces and crowns) as well as botanical casting, kokodma, dried flower wreaths and holiday wreaths.
These experiences include food and beverage and take place in the barn on the farm.
. . . . . . . . . . . . . . . . . . . . . . . .
Want to find out more about private workshops?
LEARN MORE
Sorry, there are no products in this collection.