Welcome Flower Friends!
If you are here, it's because you're a flower enthusiast (hey, so are we!).
You love knowing what's in season, and being the first to jump on new blossoms and workshops. You know that flowers make the best gift - whether for someone else, or for yourself. And you can't imagine going through the entire season without having fresh blooms in your home.
We love you. We are you!
And we have created something special just for you.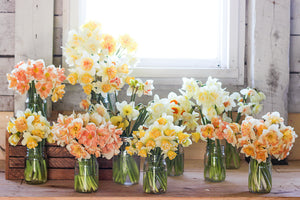 How Does it work?
Easy, sign up for our Newsletter, and you will receive:
🌸 Early Bird access to ALL flower sales, workshop tickets, special events... essentially anything we put out, you get first dibbs!
🌸 15% off all merchandise (T-shirts, canvas bags, etc.)
🌸 10% off all Candles & Soap
🌸 News from the farm - what's in season, inspiration and flower care tips